It took us by surprise.

Rarely in today's forecasting world can we truly say 'it took us by surprise'. It's become a cliche line of national news networks to use when describing severe weather damage, sometimes night in and night out in the spring and summer. Most of us local meteorologists to the ol' Captain Kirk Facepalm, shake our head or go on a quest to point out how the headlines is misleading. This time... it's not lie. Tornadoes across parts of Freeborn, Waseca, Blue Earth and Faribault counties truly took us by surprise.

It wasn't a surprise in the sense we weren't expecting anything. Storms had been in the forecast for much of the week prior. The mention as early of Friday stated that a strong storm could be possible for Sunday evening. Even though this was the going forecast, tornadoes were never talked about... until it happened.

It appears as many as six and as few as two tornadoes occurred across the area as well as a handful of other funnel cloud reports in the 7:30 to 8:45 PM. These are the official reports passed down from the National Weather Service. Some additional reports, especially from parts of Freeborn county are not represented here. The following picture was taken near Wells, MN. Credit: Tara Lynn.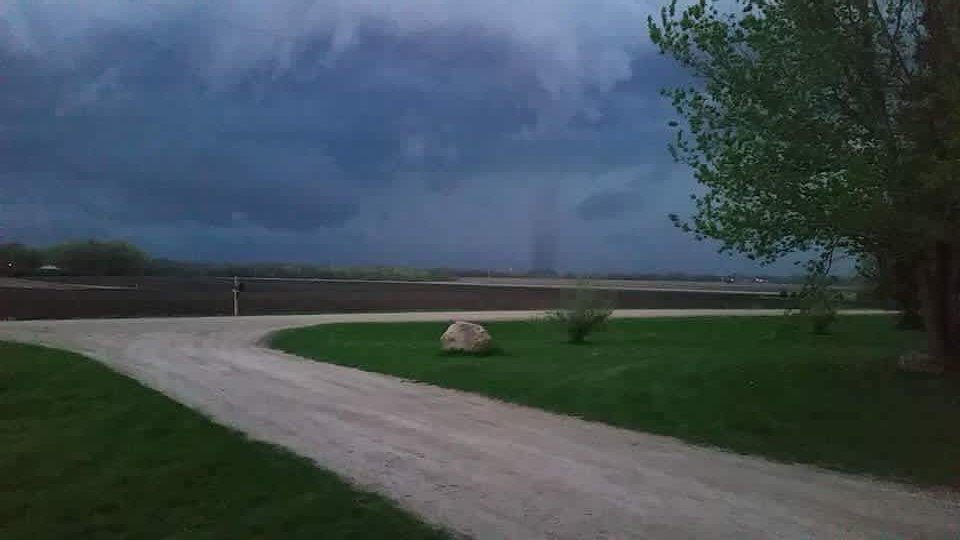 Unfortunately the scenario that unfolded last night didn't really leave ample time to provide warning. On the radar, a meteorologist's most crucial tool, the interpretation of the picture was borderline strong storms with some gusty wind potential but very little to no signal of a tornado threat.

Not helping matters was the fact these storms are in a very poor placement when it comes to radar, as the lowest available scan is looking at the storm around 10,000 feet in the air. A lot can happen in those lowest 10,000 feet, and it was clear nearly all of the parent tornado circulation was not happening at that level.

Other forecast products at the time and in the hours preceding the event didn't show much support for tornadoes either. But obviously that didn't end up being the case.

Here's the radar picture from 7:55 PM. The following picture was taken near Minnesota Lake, MN shortly before the radar still. Credit: Dave Braun. At the time, no Tornado Warning was in effect. But based on observations by public and spotters, various municipalities were sounding their sirens at the time.



Once the first Tornado warning was issued at 8:23 PM, nearly a full hour after the first reports of funnels and tornadoes occurred. We were on air a couple minutes after trying to convey the threat, which as explained above, was very difficult.

What likely formed was a type of tornado called a landspout. A landspout forms differently than tornadoes most commonly associated with supercell thunderstorms. In the case of a landspout tornado, the tornado will build from the ground to the cloud vs cloud to ground, with it's more common brother. Meaning, landspouts don't spawn from a circulation above in the clouds, hence why radar didn't show much sign of rotation.

So how did they form? Likely some horizontally spinning vortexes of wind encountered a gust front out ahead of the storms, which was very evident by looking at the radar. The picture below shows a shelf cloud which would be indicative of an outflow boundary, or alternatively named, gust front. Think of this gust front as a wedge of cold air plowing along the ground. Warm air is less dense and is forced upwards as that wedge moves along. Those vortexes mentioned above are forced up into the air and oriented themselves vertically. A graphical explanation is below, courtesy of e-schooltoday.com




Often times landspouts do not show a signature of rotation as the spinning originates from the ground. Sometimes they are invisible, especially the upper half of the tornado, unless there is debris present as the following tornado picture captured near Bricelyn, MN by Annie Harvego depicts nicely. Landspouts are usually short lived and are usually considered 'weak'. However they can inflict damage, in some cases with winds exceeding 100 mph.



So tornadoes occurred, with very little or no warning at all. After doing a reverse analysis on the scenario, knowing the outcome, I was curious if the hint for tornadoes could have been foreseen. Some of the products I analyzed are in the thumbnails below. Click each one to take a larger look.
I'll save you the nitty gritty, sciencey details, but instability was rather weak, especially near the surface, which didn't lead to a concern for supercell tornadoes. Looking at things like low level spin and lapse rates, or cooling with height was sub-par. Some moderate low level shear, or spin, was present but with weak instability at play I still can't find a huge signal indicating tornadoes would be a major threat.




So this time, the cliche line fits. Tornadoes definitely took us by surprise. Mother Nature will ultimately do what she wants. And we're here trying to be a step in front of her every move. What do we do from here? We live and learn. We study the event. We apply the observed conditions to future events in hopes to get ahead of the next one.

To those relaying reports, it is much appreciated. As mentioned above, radar can't see everything. I've said it many times before when talking about Storm Spotter Training Courses. You are our eyes in the field and a critical cog for severe weather coverage. And nothing shows that more than what happened Sunday night.

Storm Tracker 6 Chief Meteorologist
Chris Kuball